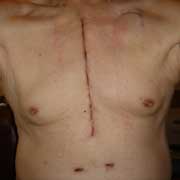 Open heart surgery
The result of the stress test administered in early October showed that there was significant blockage of the arteries. An angiogram procedure was accordingly undertaken to further check the degree of my cardiac deterioration. Dr. Chin S. Shih, my cardiologist, strongly advised that I do not undertake the planned trip to the World Eng Family Conference.
October 26th I was scheduled for a multiple bypass surgery for October 26th. Dr Ming Ru Huang's surgical team had me slit opened and sewed back within a three hour time frame. Two days of close post-surgery observation in CSU and two more days in less intensive caring units, I was released from Garfield Medical Center to the care of my sister, Gim Gee, who came from New York to nurse me.
November 7th XiaoWen visited me from Morgantown,W.VA. Gim-Gim, Walter, and I had deem seem with Sandra and Ed just prior to Walter's morning flight home. I don't look too bad for day number eleven removed from surgery, huh?
November 25th Normally I pass Thanksgivings Day in Staten Island, NY with my siblings and their now maturing family. That has been the ritual for the past 35 years of which I have missed only once during that time span. This year I missed it for the second time. This year the holiday was spent in Pasadena with Bob and Susana Chiu's siblings and their family, the growth of which I have observed with pleasure over the years. Mom, me, and the Chiu kids Mike, Bryant, and Roland are guarding the desserts in this photo.
December 25th Connie Pang has been a major help during pre-surgery and post-surgery, providing transportation as well as food and such TLC in general. We shared dinner on Christmas Day with her daughter Elaine and close friends, the Matthew-Anna family. Jewel says I look more alive posing with these attractive ladies. Maybe.
December 27th My friendship with Joe and Mabel Eng, Bob and Rita Huang goes back to early Fifties in New York Chinatown where we, blooming engineers, liberated from the Chop Suey kitchen by the GI Bill, fresh out of college, were all active in the dances and bridge clubs. Joe had quintuple by-pass heart surgery six years ago. Bob became a widower two years after I did. Bob has since remarried to a cousin's widow Elsie. The five of us, who have not seen one another for five years were brought together by Joe and Mabel's visit to their grandchildren in Palos Verdes, had deem seem together too. All of us have been retired for quite a while.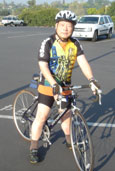 March 10, 2005 I am four and a half month into my convalescence from surgery. No complication of any kind has occurred. So, I have faith that I am on my way to total recovery. I have been on the bike trail at the Rose Bowl several times, but I am still taking it easy and not over extending each outing. President Clinton had his triple by-pass two months before I had mine. He has been rather gaunt from what I see of him on TV, and now he is having surgery again to address an unforeseen complication. Another of my friend who also had by-pass surgery never fully recovered from its debilitaing affects. I have been told that my recovery from hospital stays has been better than average by a large margin. I suppose thanks is in order to the Wumingzuo genetics.
April 15, 2005 I guess I shouldn't have thought so gloriously well of my Wumingzuo genes yet. On March 19th, I was one of the leading participant of a three car caravan for a weekend trip from Los Angeles to San Francisco to attend the San Francisco branch Eng Family spring banquet. Since I considered myself still recovering from surgery, I allowed myself to drive only half the distance. Turns out that was not small enough of an assignment. Two days after returning to Los Angeles I began to feel lethargic and wanting to sleep a lot and avoiding creative activities such as updateing and improving my website. That has been the state of my mind and feeling for the last two weeks already. Since I arrived in JFK via JetBlue three days ago, I've been resting in Staten Island at my brother Young's home. Some strange rash has developed around my neck and seems to be spreading to my left jaw. Young is having a dermatologist to look into it this afternoon.
April 21, 2005 The strange rashes developed into full blown herpi-zoster, a form of shingles. The left side of my chest, back of my neck, and my left face was becoming to be what it might have been for the elephant man. Shingles are supposed to be extreemely painful, but in my case it is just discomfort. The dermatologist predicts the herpi will run its course in a couple of weeks and that there will only be minor evidence that the disease ever occurred. I'd be more than satisfied with half of his optimism!