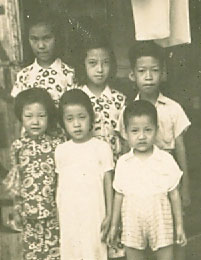 My Singapore Visit - July 2008
This is a faded photo that was probably taken in the mid-fifties. My purpose of the trip to Singapore is to visit with the ones in the photo who are still around and to pay respect to those who have left. With luck I will once more see some of their parents, aunts, and uncles. I know I will surely see their children and meet some of their grandchildren. In the photo is Jeanna (Chinese Huizhen), Ho (Chinese Guihao), Peter (Chinese Shaohong), Jennifer(Chinese Guirong), Catherine (Guikai). Place your mouse onto them and you will see who I think they are.
Indeed, they look like a poverty stricken bunch of kids from the slums. And that is not far from the truth. Within their lifetime they have seen the slum village that was Singapore grew to be a major thriving metropolis of the world. They can be proud that they were part of that magnificent growth.
There were three families, the Chia's, Lee's, and Liang's, who were very close and supportive of each other in their quest for survival in the fifties. My wife Jeanna was of the Chias, most of the other kids in the photo were of the Liangs. Not represented in the photo was the Lee family whom you shall meet later in the person of Ching Wah Lee.
Time flies, Jeanna went to the U.S.A., married me and became a banker; Jennifer and Catherine chose bachelorhood and worked in the paper industry until their retirement; Peter raised a family, worked for the Government of Singapore but later launch his own business as a taxi owner/driver at which he is still acitvely engaged; Ho was supportive of her husband in hotel facility maintenance; and Ching Wah also raised a family and worked and retired from government service.
As each grew, had their separate careers, raised their own families, and finally reach retirements to become grandparents, the closeness that was the hallmark of their childhood naturally dissipated. Not entirely vanished, however, because through my wife's periodic trips to her homeland, the visits generally bring the families together once a while. She departed life in 1998 and her ashes are resting in the Bi Shan Cemetery adjacent to her beloved mother. I am glad my current trip to Singapore served as a focal point to bring them together once again.
The following group of photos recounts my renewing of acquaintances with old friends and also getting to meet new comers to this world since my last visit in 2000. Please click here and enjoy.